Stony Brook sets SUNY fundraising record
Stony Brook University can now add the most successful fundraising effort in SUNY history to its list of accolades.
Over the last seven years, the Campaign for Stony Brook raised $630.7 million from 47,961 friends, alumni, foundations and businesses, exceeding its goal of $600 million.
The Campaign for Stony Brook was created for to raise funds for financial aid, for research projects and for academic programs and facilities.
"Philanthropy, and the generosity of our donors, provides the margin of excellence for an R1, AAU public research university like Stony Brook, during a time when state support is waning and more and more students are seeking access to excellence," said President Samuel L. Stanley Jr. "The Campaign for Stony Brook dramatically underscores the importance and impact of philanthropy across our campus and I am extremely grateful to my fellow campaign leaders, and to those who contributed the extra resources we need to continue to educate and prepare the leaders of tomorrow."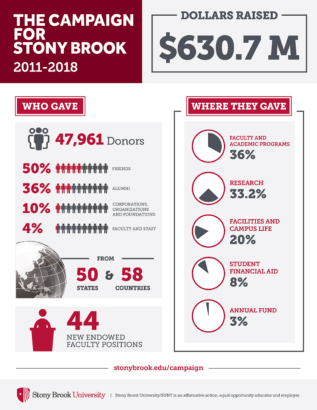 Some of the campaign's accomplishments include:
Adding 44 newly endowed chairs and professorships across campus, up from 11 prior to the campaign. in areas such as American history, nature and the environment, Tamil language and culture, computational science, coastal ecology and conservation, energy and the environment, insurance and business, and several others. Prior to the campaign, Stony Brook had just 11 endowed faculty positions on campus.
New investments in areas of excellence such as Centre ValBio in Madagascar, Southampton graduate programs in creative writing and film, undergraduate research, the Dubin Family Athletic Performance Center and the Turkana Basin Institute in Kenya.
$52.6 million for financial aid for students.
$125.9 million for facilities and campus life, including $80 million for the new Medical and Research Translation and Stony Brook Children's Hospital buildings, scheduled to open this fall.
$1 million to parts of the Melville Library and $5 million to expand the Simons Center for Geometry and Physics.
$209.1 million for research and to create and support academic centers of excellence, including the Institute for Advanced Computational Science, the Shinnecock Bay Restoration Program, the Lourie Center for Pediatric MS and the Thomas Hartman Center for Parkinson's Research.
The Campaign for Stony Brook started with a quiet phase in the fall of 2011, receiving a lead gift of $150 million from the Simons Foundation and former math department chair Jim Simons and foundation president Marilyn Simons. That gift sparked more than $127.4 million in donations from 80 of Jim Simons' colleagues at Setauket-based Renaissance Technologies, which was founded and incubated on Stony Brook's campus in the early 80's.
"The Simons' lead gift created a groundswell of support for the important work we do to drive growth at Stony Brook," said Richard Gelfond, chair of the Stony Brook Foundation board and CEO of IMAX Corporation. "Their confidence in Stony Brook and the investments they inspired have given the University the financial capacity to compete for the best researchers, clinicians, teachers and students and to aim for excellence in every way."
Campaign leadership – including co-chairs Richard L. Gelfond, BA '76, Peggy Bonapace Gelfond, James H. Simons, PhD, Marilyn H. Simons, BA'74, PhD '84, Cary F. Staller, Esq., Marisela H. Staller, Glenn R. Dubin, BA '78, Eva Andersson-Dubin, MD, President Samuel L. Stanley Jr., Senior Vice President for University Advancement Dexter A. Bailey Jr., and the Stony Brook Foundation Board of Trustees – collectively donated $310.9 million.
The money raised has had a significant impact on Stony Brook's research programs, which have been ranked among some of the top programs in the country.
"For the School of Medicine, the incredible generosity of our friends has catalyzed several innovative and impactful research and clinical programs, advancing what we know about cancer, cognitive decline, and several important diseases," said School of Medicine Dean Kenneth Kaushansky, MD. "[The Stony Brook] Campaign funding has also greatly enhanced our strength in imaging technology to diagnose and treat disease, in leveraging big data to help detect patterns of disease and response to treatment, and in new procedures to reduce the risk of stroke, colon cancer and heart disease."
Officials say the campaign reached Stony Brook alumni around the world, with a record 17,343 alumni participating and donating. Their generosity has been felt across the academic community.
"During the campaign, more and more donors were introduced to innovative and worthy academic programs, and their gifts are having a significant impact," said Michael A. Bernstein, who was appointed as the university's provost in October 2016. "Most importantly, the campaign built on areas of excellence across the entire campus, fortifying our humanities, arts, social and life sciences programs."
Stony Brook's previous comprehensive campaign raised $361.7 million in private donations when it concluded in 2009. Since then, the University's fundraising productivity grew from approximately $28 million per year in 2011 to an average of $90 million per year – roughly $300,000 in donations per day.
"Beyond the remarkable philanthropic dollars it generated, from donors in 50 states and 58 countries, and thousands of our own employees, the campaign served to strengthen the connections we have with our alumni and friends, and our staff," said President Stanley. "Their investments fortified our pride and belief in the important work we are doing. The campaign's impact will reverberate across our campus for years to come."
Since its founding in 1957, Stony Brook University has grown to become one of the largest campuses in the SUNY system. Stony Brook is a major part of Long Island's economy, generating nearly 60,000 jobs and an annual economic impact of $6.4 billion. To learn more about Stony Brook University, visit stonybrook.edu.