Stuff-A-Bus program breaks record in 10th year
United Way of Long Island celebrated the 10th anniversary of its Stuff-A-Bus program with Suffolk Transportation Service on Friday.
Brand new notebooks, pencils, markers, rulers and backpacks were collected throughout the summer to help students start the school year off with the resources they need. This year, 7,000 students from eight Suffolk County school districts received back-to-school supplies, surpassing all previous years.
"If a student does not have the tools they need to succeed at the start of the school year, they could lack confidence and the desire to learn because they feel they aren't adequately prepared, or not as smart as the kids with the new notebooks" said Theresa Regnante, president and CEO of United Way of Long Island. "In 10 years, Stuff-A-Bus has helped deliver 750,000 supplies to 32,000 children – children who were filled with self-esteem because their desks were full."
Volunteers and board members from United Way loaded up school buses with 1,000 boxes containing over 175,000 school supplies and delivered them to nine local schools in the Brentwood, Copiague, Wyandanch, Central Islip, Huntington, South Huntington, Longwood and South Country school districts.
"The students here at Loretta Park Elementary School are so grateful to United Way of Long Island's Stuff-A-Bus program – they couldn't wait to unpack all their new things and get started using them," said Bob McCarthy, principal of Loretta Park Elementary School in Brentwood. "The value of an education is immeasurable, and our staff can feel confident knowing that kids in their class all have the opportunity to grow and learn this year."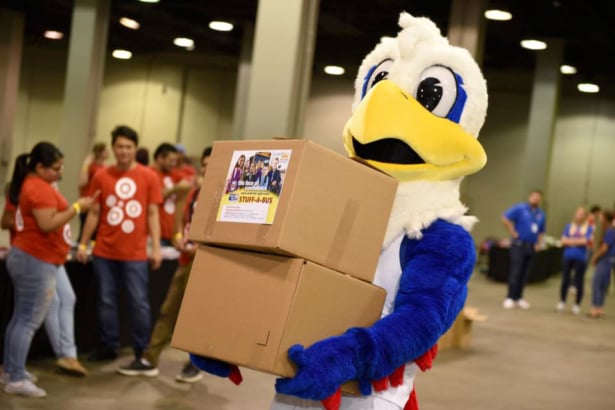 Employees from local businesses, including P.C. Richard & Son and Pier 1, were among the hundreds of volunteers that helped sort and pack supplies. They were also joined by volunteers from the Long Island Nets, the NBA G-League team owned by the Brooklyn Nets.
Suffolk Transportation Service, which operates a fleet of over 1,400 school buses for school districts on Long Island, has been riding alongside United Way since the campaign's inception. John Corrado, president of the Bay Shore-based bus company, says the results over the last decade have exceeded his expectations.
"I could have never imagined that Stuff-A-Bus would have this tremendous impact when we started 10 years ago," Corrado said. "I am incredibly proud to have been part of this program from the start, and to see all the lives that have been touched by something as small as a pencil."
United Way of Long Island is focused on education, financial stability and health. To learn more, visit UnitedWayLI.org. To learn more about the Stuff-A-Bus program, visit unitedwayli.org/stuffabus.