Inclusive flag football league aims to inspire girls
Varsity Flag, a flag football league that promotes inclusivity and encourages both girls and boys to take the field, has opened registrations for the upcoming fall season.
Founded by Long Island parent Dave Kramer, Varsity Flag aims to raise young athletes' characters to instill lifelong leadership skills from a young age, encouraging sportsmanship and forming new friendships in a safe, community-oriented way.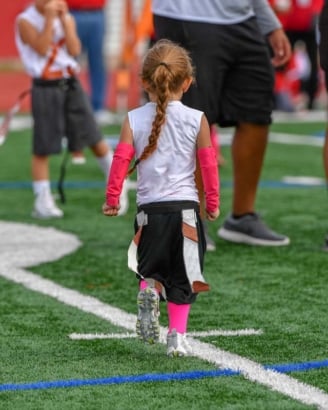 Varsity Flag is a no contact league, player-centric with separate boys' and girls' divisions, allowing kids to team up with friends or meet new people through an assigned team.
Through partnerships with Long Island day camps, including North Shore Day Camp, Coleman Country Day Camp, and Crestwood Country Day Camp, players have private access to football fields to play each week.
Each player receives their own sublimated premium jersey and personal flag belt, with team photos and an on-site videographer.
For more information visit: varsityflag.com