Ribbon-cutting ceremony at Winters Center for Autism
Elected officials joined community and business leaders on Wednesday for a ribbon-cutting and street renaming ceremony at the new Winters Center for Autism in West Babylon.
Hosted by the Winters Family Foundation, the event was attended by more than 200 people to celebrate the official opening of the 14,000-square-foot facility at 92 Mahan St.
The morning concluded with the renaming of Mahan Street to honor Joe Winters, a principal of Winters Bros. Waste Systems, who died in Jan. 2021 at the age of 54 after a brief battle with COVID. The street is now known as Joe Winters Way as a tribute to Winters, who was a driving force in developing the center aimed at furthering job training, wellness and employment opportunities for people with autism.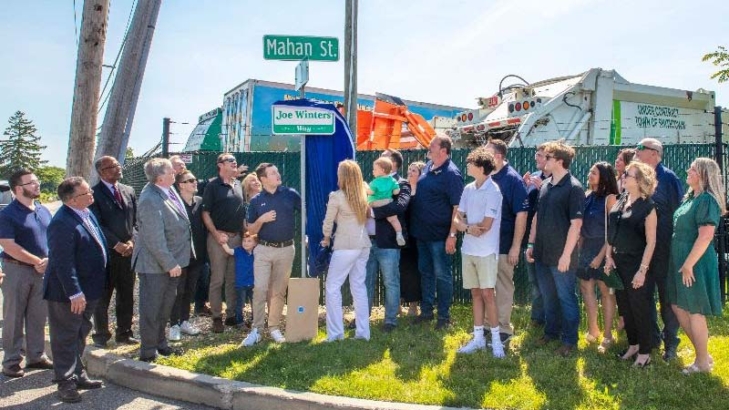 In addition, June 15, 2022, was designated as Joe and Michele Winters Day in the Town of Babylon and in Suffolk County by County Executive Steve Bellone.
The Winters Center for Autism features training spaces for employment in hospitality, food service, technology, horticulture, salon services and a relaxation room. In addition, the campus will also host Nelly's Empanadas, Music Academy for Special Learners, Mike's Custom Kuts, Winters Community Connections and Winters Bros. Gym.
The goal of the center is to help create jobs and provide job placement services for people with autism, since more than 90 percent of those are unemployed. The center will also assist caring Long Island employers develop and implement job-training programs for adults with autism.