Long Island Nets honor Liberty at Women's Impact game
The Long Island Nets honored its WNBA sister team the New York Liberty at its annual Women's Impact game this week.
During the game, presented by National Grid, the players wore co-branded Liberty/LI Nets jerseys, designed to resemble the Liberty's signature seafoam uniforms. The jerseys were sponsored by Webull and National Grid and will be auctioned at a later date with proceeds going towards Pink Cans for Cancer, a nonprofit supporting breast cancer research and cancer treatment.
The first 1,000 fans in attendance received co-branded LI Nets and Liberty NBA Jam t-shirts, and the Liberty's Timeless Torches dance team performed at halftime.
"The New York Liberty are an embodiment of strength and courage," said Alton Byrd, senior vice president of Growth Properties at BSE Global, parent company of the Long Island Nets, said in a team statement. "Encouraging girls and women to dream big and strive for excellence is important to our organization, and we are proud to work alongside the Liberty to promote this important cause."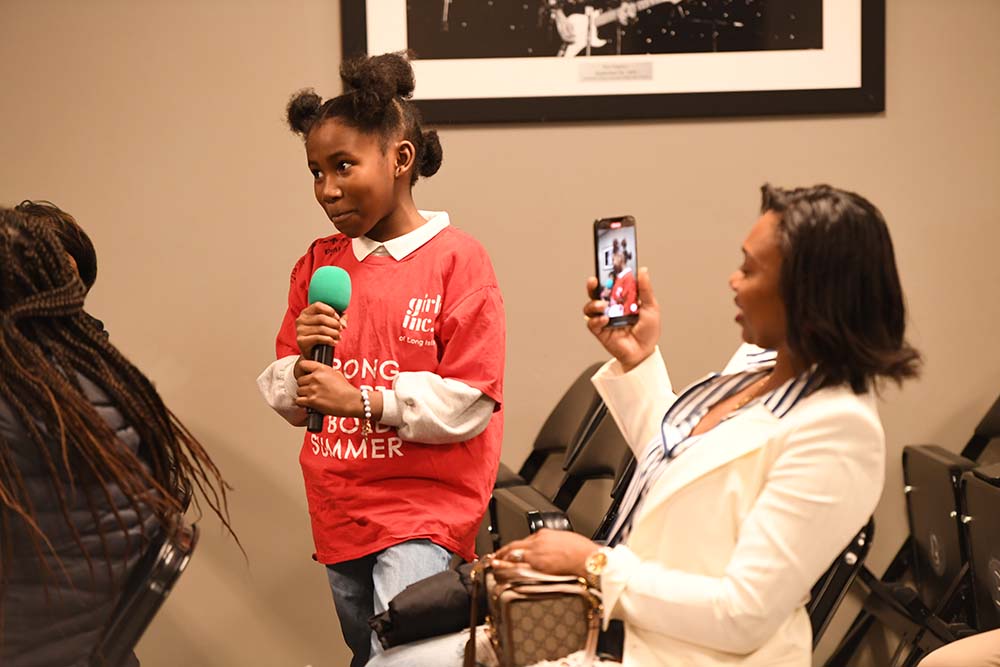 Prior to tipoff, the LI Nets also hosted a panel discussion for ticket holders featuring notable women in business and sports. Panelists included New York Liberty Legend Sue Wicks; Founder of Girls Talk Sports TV Khristina Williams; PeacePlayers Brooklyn Director Alesha Smith; and Brooklyn Nets and Long Island Nets in-arena host Ally Melendez.
"We are thrilled to celebrate our second consecutive Women's Impact game with the Long Island Nets as part of the BSE family," New York Liberty CEO Keia Clarke said in the statement. "The Liberty are New York's team and having Seafoam represented on Long Island is a great example of consistent allyship and recognition. We look forward to this becoming a long-standing collaboration where we collectively inspire women and support our community partners."
Earlier this month, the LI Nets partnered with Jovia Financial Credit Union to host a financial literacy summit for a group of young girls from Girls Inc. Long Island. The event featured a conversation with Melendez and women from the team's business staff, followed by a basketball clinic at Nassau Coliseum.