Thunderbirds returning for Bethpage Air Show
The U.S. Air Force Thunderbirds will return to Long Island for their ninth headliner performance at the Bethpage Air Show.
The Memorial Day weekend show is scheduled for 10 a.m. to 3 p.m. on Saturday, May 27 and Sunday, May 28 at Jones Beach State Park.
Military performers joining the Thunderbirds include the U.S. Army Golden Knights Parachute Team; the U.S. Marines F-35B Demonstration Team; the U.S. Navy F-18 Growler Legacy Team; and the U.S. Coast Guard Air Station Cape Cod.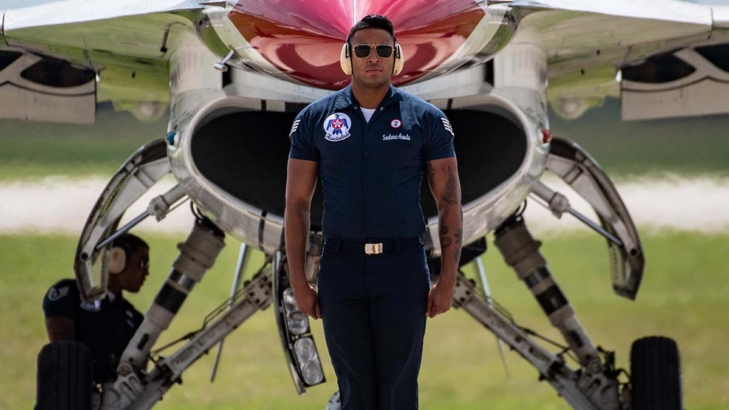 Civilian performers at the air show will feature the Skytypers and their flight squadron of five vintage WWII aircraft; Mike Goulian, North America's most decorated aerobatic pilot; Folds of Honor Biplane with Ed Hamill; the American Air Power Museum Warbirds; Long Island stunt pilot David Windmiller; Warbird Thunder Airshows; the Civil Air Patrol; and the Farmingdale State College Flying Rams, who will fly several of their 22 college-owned aircraft.
"We have a full line up of exciting performers this year, and of course we are very happy to welcome the Thunderbirds back to Long Island," George Gorman, regional director for New York State Office of Parks, Recreation and Historic Preservation Long Island Region, said in a written statement. "During their last visit in 2021, our weekend performances were rained out, but the Thunderbirds remained for our unprecedented Memorial Day show. We will be forever grateful to them for this decision."
Over 366,000 people attended the Bethpage Air Show at Jones Beach the last time the Thunderbirds squadron headlined a full weekend show in 2019.
The Bethpage Air Show at Jones Beach is sponsored by Bethpage Federal Credit Union, New York State Office of Parks, Recreation and Historic Preservation, Newsday, WABC-TV Channel 7, Northrop Grumman, Natural Heritage Trust, Connoisseur Media Long Island, Catholic Health, Rallye Motor Company, PSEG Long Island, News 12 Long Island and Pinelawn Memorial Park and Arboretum. The show can be heard in its entirety on WHLI 1100 AM and 104.7 FM.
The Bethpage Air Show is free to the public, but the standard $10 vehicle use fee will be collected each day upon entry to the park. There is no vehicle use fee for 2023 NYS Empire Pass Card holders.
For more information visit: www.bethpageairshow.com