DEC patch sales help support state trails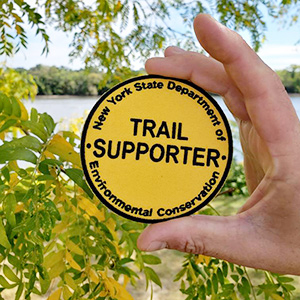 The New York Department of Environmental Conservation is selling patches to help support the "maintenance and enhancement of hiking, biking, horseback riding and other non-motorized trails" in the state.
The new patch design is based on the round yellow markers that indicate connector trails on state lands. Last year's design was inspired by the red markers used by the DEC on east-west directional trails, and in 2017 the patch was blue with white lettering like the markers that highlight north-south directional trails.
Trail Supporter Patches were first introduced in 2007 as a way to raise money to maintain state trails. Since then, the DEC has raised more than $41,000 selling the patches. They can be ordered online from the DEC website or purchased at retail stores where sporting licenses are sold.
---
For more information about where to purchase a Trail Supporter Patch, visit dec.ny.gov/outdoor/36016.html.