Syosset student donates gear to sports nonprofit
Syosset High School sophomore Sawyer Wayne headed a sports gear collection drive for Samba 360, a nonprofit that supports children in under-served communities.
Wayne, an all-conference member of his school's varsity soccer team, organizes an annual donation drive to give the gift of sports equipment to those in need. Since 2013, the effort has added up to more than 10,000 new and gently used sports gear items donated to the nonprofit.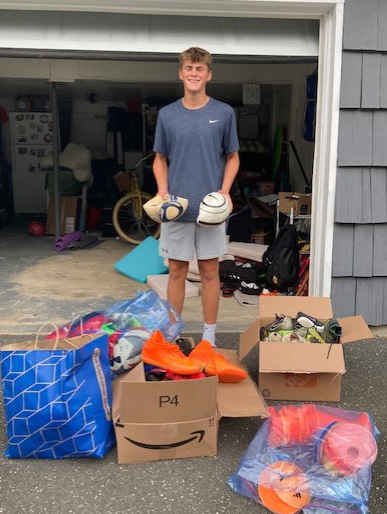 "Sawyer is a tremendous soccer player, but what impresses me more is his commitment off the field to help children who are less fortunate and in need of basic soccer gear items, like cleats, socks or jerseys that many take for granted," Samba 360 Founder Shawn Brown said in a written statement. "I sincerely appreciate Sawyer and the support to help level the playing field. I know Sawyer will continue with his philanthropic work."
Samba 360 recently donated more than 160 new basketball jerseys and shorts to the Inwood summer basketball program in New York City; more than 300 items to the MercyFirst orphanage of Syosset; and last week, the nonprofit took 25 under-served, inner-city children for their first golf lesson and donated a new electronic-powered wheelchair to a paraplegic soccer coach.
For more information visit: Samba360.org