Power to Feed far exceeds its food drive goal
PSEG Long Island's Power to Feed effort raised the equivalent of 42,616 meals, nearly 43 percent more than its 30,000-meal goal.
Company officials were joined by representatives of Island Harvest Food Bank and Stop & Shop and by community volunteers at Island Harvest headquarters in Melville last week to announce the results of the successful summer food drive.
All in all, 14,897 pounds of food was collected at the six Stop & Shop sites, along with $13,367 collected online and in cash donations and gift cards.
"PSEG Long Island's Power to Feed Long Island initiative has brought out the best in our community and we are overwhelmed by the kindness and generosity of Long Islanders," David Lyons, interim president and COO of PSEG Long Island, said in a company statement. "With their help, we were able to collect 12,616 more meals than the lofty goal of 30,000 we set in June. This is a powerful affirmation of what Long Island is all about. Helping each other is just what we do. I am so proud of our employees who supported these events with their time, money and efforts."
Created by PSEG Long Island in 2021, Power to Feed is aimed at providing the public with venues where they live and work to donate food and personal care items to their neighbors. Food collection events were held from July through September at Stop & Shop supermarkets in Massapequa, Riverhead, Smithtown, Carle Place, East Northport and West Babylon.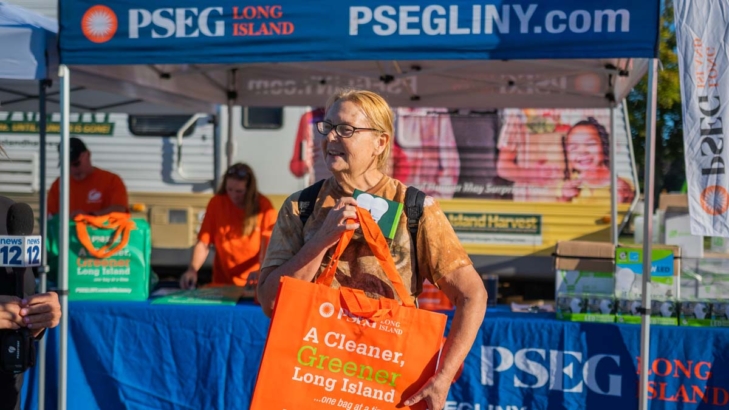 "Stop & Shop is proud to continue our ongoing support of the efforts of Island Harvest to address food insecurity across Long Island," Stefanie Shuman, community relations manager for Stop & Shop, said in the statement. "PSEG Long Island's Power to Feed Long Island enabled our caring customers to take part in food drives held at Stop & Shop stores across Nassau and Suffolk by helping their neighbors in need. This program underscores that when we work together we can make a difference in assisting those combating hunger and food insecurity."
Summer is a difficult time of year for food banks, pantries and programs because vacations cause a decrease in donations and collection drives are not top of mind. It is also a time when children out of school are not receiving daily free or reduced-cost breakfast and lunch, which puts a heavier burden on their families. Compounding the issue, the pandemic and the increased inflation rate have further strained local food programs and emergency feeding programs.
"PSEG Long Island's extraordinary efforts in exceeding the expectations of its second annual Power to Feed Long Island initiative is extremely gratifying," Randi Shubin Dresner, president and CEO of Island Harvest Food Bank, said in the statement. "We are grateful for their ongoing commitment to helping improve the lives of our neighbors who face the daily challenge of not having enough to eat. We are also thankful to PSEG Long Island's employee ambassadors, our partner Stop & Shop and the countless Long Islanders who donated to the PSEG Power to Feed Long Island food drive."