Long Island executives spend summer building homes
More than 20 Long Island CEOs, executives and employees joined staff from Habitat for Humanity of Suffolk this summer to help build two new homes in Bay Shore for the nonprofit's CEOBuild event. Construction began on the houses during the spring months as volunteers worked alongside the families that would eventually become the new homeowners.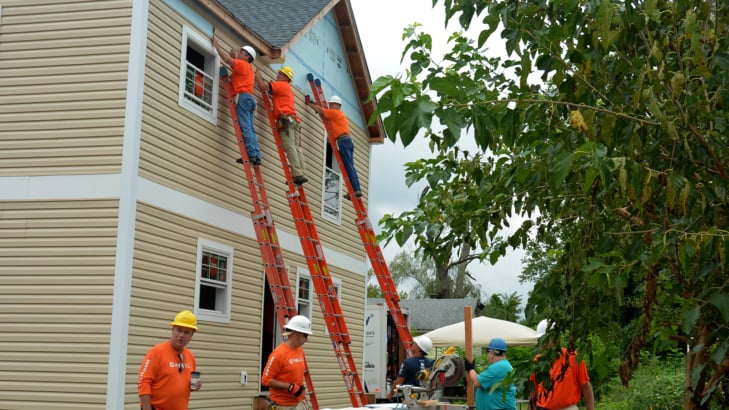 Dan Eichhorn, president and COO of PSEG Long Island, along with two dozen of the utility's leaders, donned a hard hat and a hammer on three separate occasions as part of PSEG's own Habitat-inspired "executive build" campaign.
"PSEG Long Island's senior management team is proud to be a part of Habitat for Humanity and assist with the building of two houses for two great families in need," Eichorn said in a statement.
Gary Weiner, president of Bay Shore-based portable sanitation company Mr. John, provided donations in the form of portable restrooms for volunteers and construction staff working on job sites.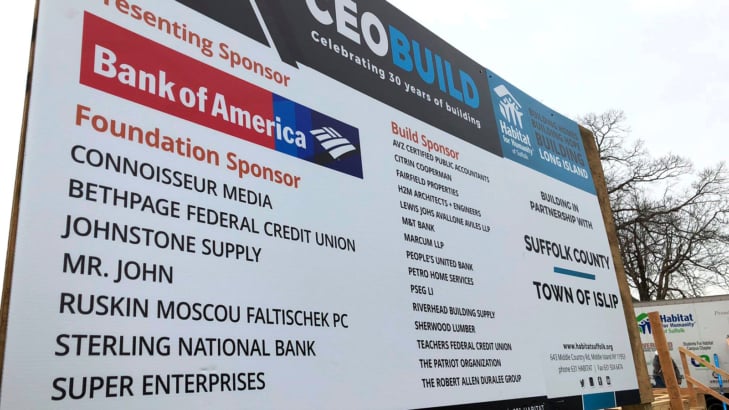 During the past 30 years, Habitat for Humanity of Suffolk has built more than 190 homes for Long Island families with the help and support of its partners and volunteers.
"Habitat's mission of building affordable, quality homes for the families of Suffolk County can only be accomplished through the dedicated efforts of our sponsors and volunteers," said Les Scheinfeld, director of development at Habitat for Humanity of Suffolk. "It is through these partnerships that we have the opportunity to bring together deserving future homeowners and the economic leaders of Long Island to create meaningful change in the lives and landscape of our communities."
Some of CEO Build's corporate sponsors and volunteers included Bank of America Long Island Market President Bob Isaksen, Bethpage Federal Credit Union CEO Wayne Grosse, BNB Bank President & CEO Kevin O'Connor, H2M architects + engineers President & CEO Rich Humann, The Robert Allen Duralee Group CEO Lee Silberman, and Llloyd Staffing President Keith Banks.
For more information about Habitat for Humanity of Suffolk, visit habitatsuffolk.org.