Long Island Nets to honor Dr. King
The Long Island Nets will honor the life and legacy of Dr. Martin Luther King Jr. during their game against the Grand Rapids Gold on Monday, Jan. 16 at the Nassau Coliseum.
During the game, which tips off at 1 p.m., players will wear special uniforms with a design inspired by the key values of the civil rights icon: freedom, equality, justice and love. The uniforms will be auctioned at a later date via The Players Trunk with proceeds going to the Eta Theta Lambda Chapter of Alpha Phi Alpha Fraternity, who will also perform a traditional step routine during halftime of Monday's game.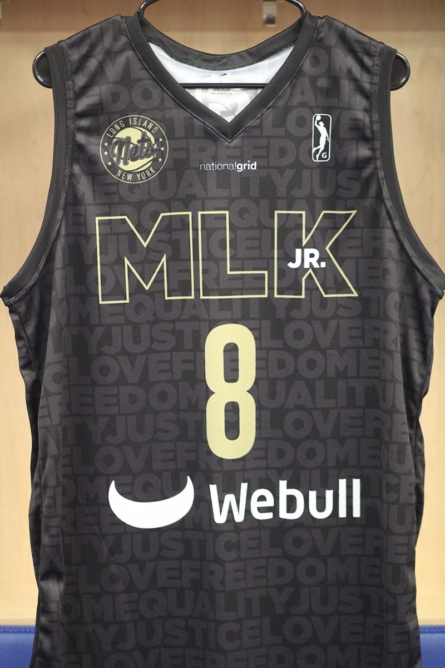 Before the game, Long Island native Queen Spann will perform both the national anthem and "Life, Every Voice & Sing."
Additionally, the Islip Town Branch NAACP will present the Legacy Trailblazer Award to Alton Byrd, senior vice president of Growth Properties at BSE Global, parent company of the Long Island Nets in an in-game ceremony. The Legacy Trailblazer Award is given annually to professionals who have contributed to bettering the lives of all people on Long Island, especially people of color, and Byrd is being recognized for his quality contributions to the community.
"We must continue to honor and highlight the legacies of heroes who have paved the way for true equality," Byrd said in a team statement. "The Long Island Nets are excited to amplify Dr. King's story through the game of basketball and our work in the community. I want to thank the Islip Town Branch NAACP for presenting me with the Legacy Trailblazer Award."
Monday's game is the culmination of a series of programming the Long Island Nets have participated in to recognize and honor Dr. King's legacy. This week, the Long Island Nets Kids Dance team visited the MLK Center of Long Beach where they taught a celebratory MLK dance to participants.
In addition, Long Island Nets players David Duke Jr. and Noah Kirkwood along with their head coach Ronnie Burrell, participated in a panel discussion on Friday with the Copiague High School varsity basketball team, with a focus on the importance of ongoing and continuing education as professional athletes.
Fans interested in attending the Long Island Nets' MLK Day Game can purchase tickets online at: longislandnets.com